Koi Herpes Disease (KHV) - Dry those nets, slings, mats and stink bags..!!
Many of you know will about this stuff these days so this is for those that don't know, are new to angling or need a bit of a reminder..!!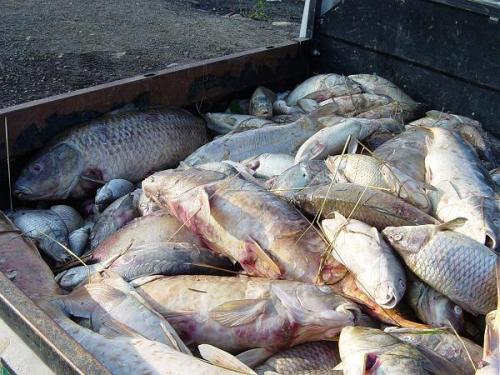 Not a pretty site is it? an easy to prevent one with just a little care and awareness..!!


After dangling always thoroughly dry your nets weigh slings sacks and stink bags and if possible leave them to dry in the sunlight.. Also, if you use them dry your stink bag/s thoroughly and don't forget to turn them inside out to dry too, stink bags are a perfect hiding place for any disease such as KHV that could be spread to another fishery...be especially careful with this stuff if you like to go from one fishery to another, don't be the twonk responsible for killing a fishery..!!
If you don't have a garden to hang your stuff out in then there is stuff out there that will kill KHV, you will find that some fisheries will have a dip tank for your nets in which you are meant to dip your nets mats and so on, you can also do this before leaving the fishery to protect the next fishery you visit, it might be worth asking the fishery manger if the fluid in the dip tank is kept up to date or it vould cause more harm than good. A good idea is to have a separate net and sling/mat for your syndicate/club for but a good dry in the sunlight will kill KHV every time so do that whenever possible but otherwise please do whatever you can...
For the gory and destructive details of KHV see this article (pdf) by D.Griffiths and this article (pdf) from DEFRA.

Info on KHV outbreaks can sometimes be found on the DEFRA web page..

Be Lucky

Copyright © 1999-2019 Carpfishing UK